Living With RA | RA Arthritis | RA Help | RA Tips
See on Scoop.it – Traveling with a Chronic Disease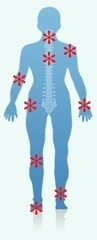 Are you living with RA? Discover 10 things you should know about rheumatoid arthritis and find the help, tips and advice you need to live better.
Rosemary J. Adkins's insight:
Now with remission possible, travel may be possible for those who struggle with Rheumatoid Arthritis. Ireland is a destination friendly for all type visitors and health care can't get much better for the visitor. Can't travel, read the tips offered to improve your life at home.
Mamie takes you to #Ireland with #Irish history and fun http://www.youtube.com/watch?v=VThKJMumq2k
See on www.arthritistoday.org